Today, we want to share a set of model villas "Obsidian Villa", by Shangnuo Bona Studio, located in Zhuhai Poly Jiuzhou Tianhe "Yushu" group, with a design area of ​​885 square meters, which is also the largest among them. As one of the "Raw Stone" series of design theme concept works, the mysterious and low-key obsidian villa redefines the high-end villa residence.
In order to highlight its unparalleled volume, the designer deeply digs into the life pursuit and taste of the occupants, and uses the sense of the quality of obsidian to fully show the scale and stability of the space, and connect it with the strategic high-net-worth business people.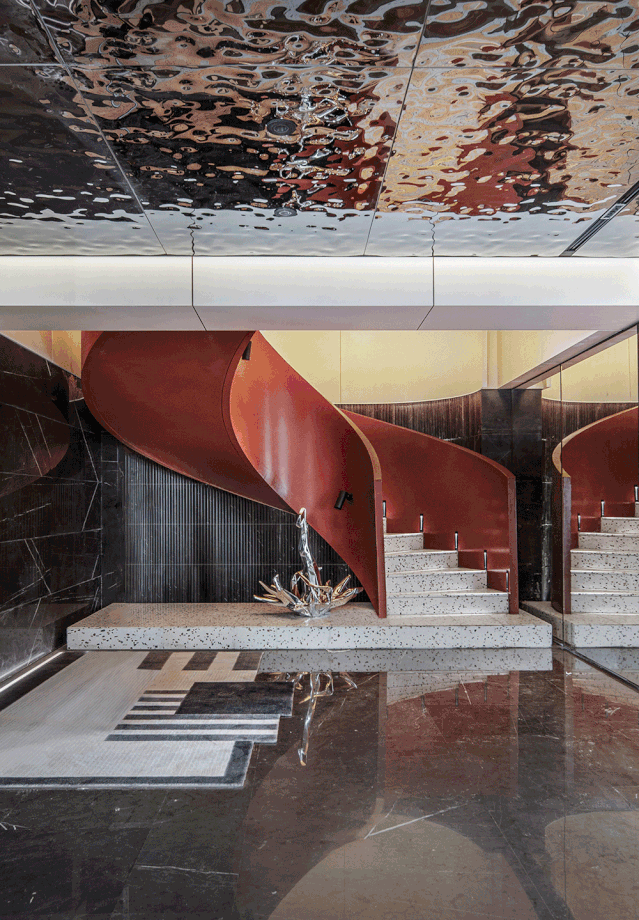 [contact-form-7 id="1733″ title="Download Catalogue"]
As the biggest feature of the entire villa, the basement combines various leisure and vacation functions, reflecting the veritable luxury connotation. The entire underground space is full of art and fashion, and it is itself a finely crafted work of art.
The meeting room is divided into a cigar area and a party area. The Party area uses a combination of black, grey, gold and red, and uses different textures to enrich the vision of the entire space. The high and low furnishings with unique styles, together with the miniature landscape area that also has a Minibar, can invite friends and party freely.
The sports training area has become a new permanent standard for luxury houses. The sports training area of ​​the Obsidian Villa is very spacious, wrapped in black and gold tones, revealing a different sense of strength.
The spiral staircase is changed to a steel structure to create a lighter shape. The original work of art created by referring to the diver's diving posture, "The Goodness is Like Water", is divided into two parts, which echo each other through the spiral staircase, and are connected far away. The combination of "tianshui" and "earth water" balances yin and yang and is all-encompassing.
Based on the similar texture of "obsidian", the children's room uses yellow and green to interpret the peaceful and dynamic atmosphere, which fits the two children's completely different personalities.